Local Insights
Published on December 5th, 2015 | by Publisher, Natural Awakenings Central New Jersey
0
The Inspired Table ~ Healthy for the Holidays
Recipes courtesy of Living Plate Nutrition Education and Counseling Center located in the heart of Somerset County in Far Hills. Credentialed healthcare professionals work along side culinary facilitators to bring you innovative programs with hands-on culinary instruction.
Kale and Brussels Sprouts Salad with Tahini Maple Dressing
Serves 6 ~ Makes 10 sample servings
Ingredients
• 2 heads lacinato kale, tough spines removed and shredded
• ½ lb. Brussels sprouts, washed, trimmed and halved
• 2 teaspoons olive oil
• ¼ teaspoon salt
• ¼ cup pomegranate arils
• 2 tablespoons slivered almonds [optional]
Dressing
• ¼ cup tahini paste
• 2 tablespoons white balsamic vinegar
• 2 teaspoons chickpea or brown rice miso
• 1 teaspoon maple syrup
• ¼ cup water
Directions
1. Preheat oven to 400 degrees F.
2. Place Brussels sprouts in large bowl with oil and salt. Toss to coat.
3. Place Brussels sprouts on parchment-line baking sheet and roast until browned, approximately 20 minutes.
4. Meanwhile, place kale in large bowl and massage until wilted, approximately 1 minute.
5. Place dressing ingredients in a small bowl and whisk together.
6. When Brussels sprouts have cooled, add to kale and toss with ¼ cup of the dressing.
7. Toss in pomegranate arils and season with salt and pepper. Top with almonds if desired.
Spaghetti Squash with Tangy Eggplant Caponata
Serves 4 ~ Makes 6 sample servings
Ingredients
• 1 large spaghetti squash, halved and seeded
• 2 tablespoons EVOO
• 1 large globe eggplant, cubed
• 1 large garlic clove, pressed
• ¼ cup red onion, chopped
• ¼ cup parsley, chopped
• ¼ cup basil, chopped
• 2 tablespoons capers, drained
• 3 tablespoons fresh lemon juice [more if desired]
• ¼ teaspoon salt or to taste
Directions
1. Preheat oven to 400 degrees F. Carefully cut squash in half [or have your friendly grocer tackle this!] Remove seeds and soft, stringy flesh.
2. Brush exposed squash flesh with olive oil and sprinkle with salt. Place squash halves cut side down on parchment lined roasting pan. Roast squash until just soft, about 30 minutes. Insert a knife to test – should have a little resistance.
3. Remove squash from oven and set aside to cool.
4. Place eggplant in bowl and toss with 1 tablespoon of olive oil. Sprinkle with salt and place on same parchment-lined roasting pan. Roast in oven until just soft, about 20 minutes.
5. Meanwhile, place garlic, onion, herbs, capers, lemon juice, and 1 tablespoon of olive oil in bowl. Whisk until incorporated.
6. When eggplant is done, toss in bowl with herb dressing. Salt to taste.
7. When squash is cool enough to handle, hold in palm of hand, flesh side up, and run a fork through the flesh. It will come off skin like spaghetti. Season with salt and pepper.
8. Place squash on platter and top with eggplant mixture.
9. Drizzle with additional olive oil if desired.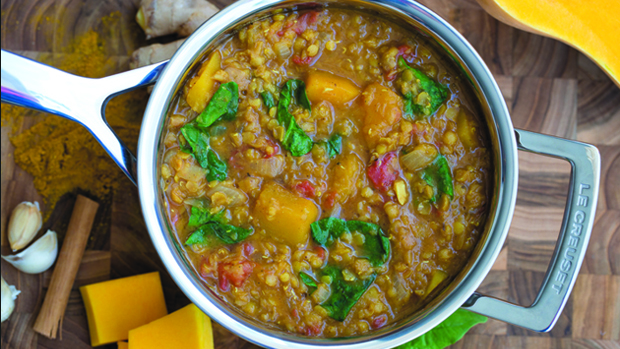 Moroccan Spiced Squash and Lentil Stew
Serves 10 ~ Makes 20 sample servings
Ingredients
• 1 tablespoon olive oil
• 1 large sweet onion, chopped
• 2 cloves garlic, minced
• 1 tablespoon shredded ginger
• 1 tablespoon Moroccan spice mix or curry powder
• 2 tablespoons miso paste
• 2 cups chopped butternut squash [can use frozen]
• 1 cup red lentils
• 4-5 cups water
• 1 can coconut milk
• 1 can diced tomatoes
• 2 cups chopped spinach
• Salt and cayenne pepper to taste
Directions
1. In a large soup pot, sauté onion and garlic gently in olive oil until soft and fragrant.
2. Stir in ginger and sauté for a few more minutes.
3. Add spice mix and miso and stir to coat vegetables.
4. Add squash, lentils, water, coconut milk, and tomatoes. Bring to a boil then reduce heat and simmer for 20 minutes until squash and lentils are soft, adding more water if needed to keep vegetables covered.
5. Stir in spinach just before serving.
6. Season with salt to taste, adding cayenne for added heat if desired.